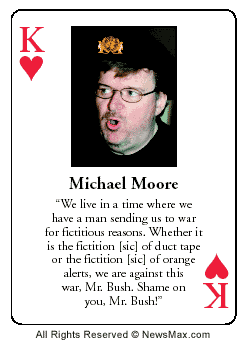 Michael Moore chimed in on the Canadian elections in a typical liberal way: your country is acting dumb… why don't you know better… can't you see how silly you're acting… is this a joke? Why is he flustered? Because the libs are on the verge of getting creamed up there.
Typical liberal response. Libs love to throw the whole "voting Republican, third party, or conservative is voting against your own self-interest" bit at anyone who votes a different way. Apparently, you only pass the liberal "smart" test if you do and think exactly the way that they do. If their liberal message was that good, they would never have to worry about losing elections… unless, of course, they are hoodwinked by the right wing! Small minded and petty.
So, Moore's conclusion is that Canada's dumb because of the probable outcome of today's elections. Perhaps, maybe, they've actually just started thinking up there for a change. I'm not sure the libs would be able to fully recognize that.
Thank NewsMax for the pic.