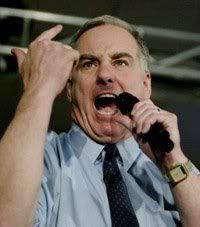 According to Drudge, Howard Dean is now afraid that President Bush is going to turn the country into Iran. This man needs help. As a Republican, I suppose I should be enjoying these psychotic ramblings but at the same time it's a little sad.
I'd also like to point the ironic fact that we didn't hear a peep out of Democrats when President Jimmah Carter sat back and allowed Iran to turn into Iran. Maybe the face of the Democrat party is just trying to rewrite history. Nice try psycho.
Click here to listen to the Howard Dean theme song.