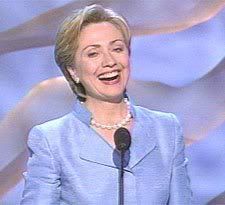 She Who Must Not Be Named reiterated her opposition to school choice on Tuesday. Her reason for opposing this common sense reform? In her own words: "So what if the next parent comes and says, 'I want to send my child to the School of the Jihad? … I won't stand for it."
Never mind the fact that any school or parents who support a school that preaches violence against the U.S. would be immediately arrested, or worse, wiretapped. Although those within 200 yards of this woman would require earplugs, I really hope she keeps talking.
I support school choice because I believe competition will improve the greatest number of schools but I also recognize some of the legitimate arguments against the idea. One who opposes school choice does not need to refer to Jihad schools to get her point across. If this is any indication of She Who Must Not Be Named's political skills, then her family will never infest the White House again.
UPDATE (2:09 P.M.) Michelle Malkin has the video
Thanks to Newsday for the article
Thanks to PBS for the photo