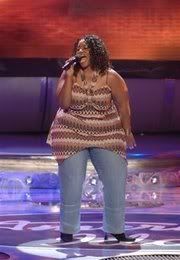 Mandisa Hundley was recently voted off of the new season of American Idol. That girl has pipes!… just not fans. She also has a certain point of view about homosexuality. She does not actively support the gay agenda and states that she would not perform at one of their activist rallies.
MSM translation: she's practically Klan.
Anti-gay press seems to be one of the running themes this season on Idol. I'm not sure what the motive is: boredom with the smoothness of the show, the need for some kind of non-Paula related controversy, a blatant attempt at social engineering Culture War-style, or something else.
Think: first, Randy and Simon (experts in the music performance and promotion industries, respectively) think that poor singers can't sing– even if they happen to be gay, transsexual or just like how they look in the opposite gender's clothing; secondly, now Mandisa's deeply held Christian belief that homosexuality is a more complex issue than "if it feels good do it" is getting fresh negative press for the highly successful show in its fifth season. C'mon, this girl just got booted off the show, now it's time to kick her again for having a certain Christian belief unpopular with the MSM's clique?
I remember when this show was about singing. (pine… sigh)
Thank Yahoo for the pict.