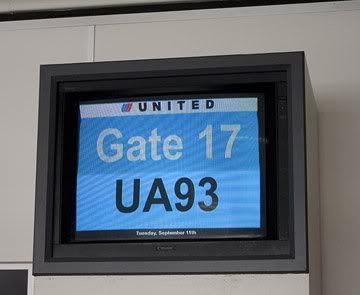 I see a lot of movies. I like movies. I even thought V For Vendetta actually took a swipe at our enemies in the War on Terror despite the best intentions of its writer and directors. Since the Wachowski's and Alan Moore's pov on conservatives is so baseless and over the top, it only serves as red meat for those who don't get it. Those who are just looking for a good time at a dysopic comic book action movie will see a clever rehash of a fictional totalitarian Britain in the 2020s as the left-leaning alarmist Alan Moore viewed the ultmiate legacy of Thatcherism in the early 1980s. Being wrong about history and politics can actually be rather entertaining, especially with Natalie Portman thrown in the mix!
But anyway… There's a lot of buzz about the new film United 93 which debuts at one of the many film festivals next week before it open wide on Friday, April 28. I've heard a number of different points of view on this film and I can't wait to see it myself. I disagree with those who believe that it's "too soon" to have wide docudramas about 9/11. My opinion is that culturally we've gotten much too complacent about those events, especially in lieu of recent utterings from the world's largest state sponsor of terrorism, Iran. Yet, as a film, it may not do those events justice, or it could be ham-fisted, or it could aggitate by being deliberately macabre. We'll see.
I'll post a review the minute I see it!