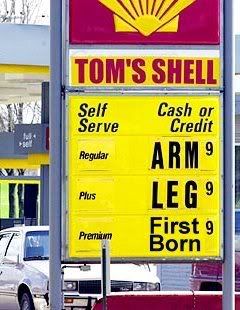 Rush brings up a funny point about this idea of the oil companies "gouging" the consumers because of the record numerical profits Exxon-Mobil and other companies have seen in the first quarter this year. Rush's point is:
The oil companies get 9 cents per gallon of gas in profit at the pump.
The Federal tax on gas is 18 cents per gallon.
If Exxon-Mobil made $8.4 billion in the first quarter, then the Feds must have made just under $17 billion in that same time period, while also taxing the profits Exxon-Mobil made after that.
Rush coyly asks if the Federal government isn't, perhaps, gouging us at least a little bit. Can't they lower the tax on gasoline? Should we have an investigation into the Federal government gouging the consumers? Microsoft's profits are up 38% this year. Does our economy really need newer, faster computer operating systems? Shouldn't they pay, too?
I know the Feds provide us with some important stuff (military, infrastructure, etc.), and there's good to come out of investigating individual gas stations that may gouge, but the oil companies themselves have been watched so often for so long under such scrutiny, that the talk of investigating price gouging at the corporate level seems like simple, short-sighted political pandering.
Lower the federal gas tax and nab the creeps who gouge us locally.
Thank Oldgas.com for the pict.