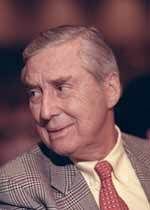 Lloyd Bentsen has died at the age of 85. Being a consumer of political minutia, I was the only younger history teacher in the lounge who recognized the name and gave a nostalgic "aw shucks" at the report. I had put him into the "I already thought he died" pile with George McGovern, who I hear may still be kicking.
Distinguished career, but old-school liberal. He is hailed for two major things:
Using that "I knew Jack Kennedy" line in the 1988 Veep debate.
Contributing to the largest tax increase in American history in Bill Cliinton's 1993 "deficit reduction" package.
But the Texas Senator who received one West Virginian Electoral Vote in 1988 (Bush- 426; Dukakis- 111; Bentsen- 1) gets this moment when we all can reflect on his career to public service.