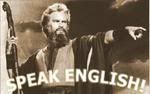 File this one under "no ****." As Washington is again demonstrating its disconnect from Main Street, a Rasmussen poll finds that 85% of Americans surveyed support English as the official language of the USA.
The benefits would be numerous if English was made our official language. Here a just a few:
all ballots would be printed in one language, saving millions of dollars nationwide.
all government documents would only be printed in one language, saving more millions of dollars nationwide.
ESL classes for adults and children would increase substantially, spurring economic stimulation in that sector.
Immigrants would feel a closer connection to America if they had to work to achieve a goal of learning the language, which also opens up

all

the opportunities America has to offer.
The assimiliation process would be faster; and as we sometimes see in Europe, assimilitation is crucial for national security nowadays.
Yet, somehow the government misses all of this, blinded most assuredly by the eminence of the Politically Correct gods.