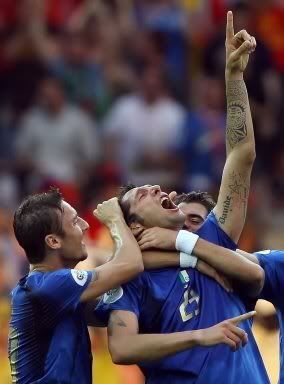 The 2006 FIFA World Cup Championship has just finished with Italy defeating France 5-3 in the penalty kick phase of overtime. They battled to a 1-1 tie in regulation, played two overtimes, and ultimately ended up with an Italian victory at the end. Great game all around– good soccer, some drama, decent refs, play until the penultimate kick phase after 120 minutes of field action. Neither team should have been ashamed to lose this game given the action and circumstances.
Firstly, a disclaimer: I'm not a huge soccer fan, as I was rooting for Brazil if the USA fell through. When they were both eliminated I was "meh" on the rest of the tourney. But, this World Cup action had been pretty exciting for soccer and I had to see it through. The way American's play soccer is boring, cumbersome, and slow, but some teams around the world really do entertain!
That being said:
My heart was mixed on this one. I figured that the French would win, since their team has played solidly and have beaten generally tougher teams than Italy has in the World Cup. Yet, something creeped in… rooting for France? I didn't like it, even though they'd probably win and do deserve respect on the World Cup stage for their talent.
So when the French scored first early, it was expected. Then, in the 19th minute, Italy scored. While terribly fatigued about half-way though the second half, Italy persevered… but I still figured they'd lose to the better team, being that France was still attacking frequently while Italy was holding back.
Then in OT, Zidane, the famed French mid-fielder, headed an Italian player in the chest, drawing a Red Card. I now had my out. That and the French coach, Raymond Domenech, has a distinct anti-Scorpio bias. Now personally being a Scorpio, I was steamed that someone practicing anti-zodiac "astrologism" might hold up the World Cup trophy. Karma.
Angered at Zidane, who until that point played a great final game of his career, and feeling alienated about the astrological smackdown the French coach practices, I was glad to see Italy pull it off. The team that beat the USA in the early rounds, beat the French in the Finals.
Rome's not going to bed tonight!