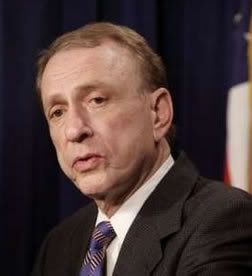 Arlen Specter is a fool. He has totally misunderstood the meaning of this election, and wants to drive the Republicans into further electoral irrelevance by having the party move to the left. From an AP story today:
Sen. Arlen Specter, the moderate conscience of Pennsylvania Republicans, on Wednesday urged the party to re-evaluate its priorities in the wake of nationwide election losses and called for a more progressive agenda that changes the strategy in Iraq and puts more emphasis on education and health care at home.

In addition to the war, which he called a key factor in the losses of fellow Pennsylvania Republican Sen. Rick Santorum and others, Specter said his party will have to become "a lot more progressive and a lot less ideological."
This is just what we need to do. Become clones of the Democrats. That'll differentiate us in the 2008 election.
The wrong Senator from Pennsylvania was defeated last night.