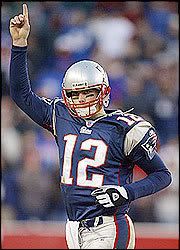 According to Drudge, the House is closed for business due to the impending BCS Championship Game. As noted in the article, the House was supposed to be in session a full five days a week now according to new Democratic rules. I'm also waiting for those 100 hours to start. I honestly thought that they had already. So, what's the point in having a "100 Days" hype-fest just to postpone it, spread it out or split it up? I suppose there are 100 hours in roughly 4.17 days, but that could be one hour here, another hour there. It's laughable! But, as the government is shut down, I'd at least like to see an entertaining game tonight.
The New York Giants lost yesterday 23-20. They showed up for two drives (one early, one late) to make it close, but alas ended up 8-9 for the season. Suddenly, I had two friends today at work excitedly mention that Charlie Weis may replace Tom Coughlin, who did bring the Giants to the playoffs and still has a year under his current contract anyway. Hmm… I think I've seen this film and know how it ends.
Go Patriots! It was a scrappy 2 1/2 quarters yesterday. You can never count the Jets out, but the Pats outplayed them down the stretch to a 37-16 victory. I really like Mangini and Pennington and respect that organization. Had they beaten the Patriots, I would now be rooting for them (after a day or two to sulk). They're classy, scrappy, and play a blue-collar style of football that has matured from its start under Herm Edwards. They'll be back next year. I think the match-ups in all of next week's games are great. It'll be hard to call any of them with confidence.
With that said my picks are as follows: Ravens wear down and eventually beat Indy, Bears squash Seattle's dream for consecutive NFC Championships by exploiting their weak secondary, Pats pull off the upset in glorious fashion (finger's crossed very very tightly!), Nawlins has a great day matching Garcia drive for drive in a close one.