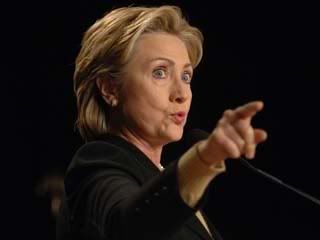 This piece at Politico is mostly speculation with a little bit of news, but I find it interesting enough.  They speculate that She Who Must Not Be Named and Barrack Obama may skip a good number of expected primary debates.  After all, neither candidate has accepted any debate invitations.  Obama hasn't been in politics long enough to detect a pattern, so his intentions are unclear.  As for the Junior Senator sort of from New York, skipping debates would conform to her playbook.
Not discussing issues is the default in her playbook.  What She needs to do is turn attention away to some other half-relevant topic so She can complain that the candidates are not discussing issues.  In the primary, She needs to turn the focus away from her original insincere support for the Iraq war.  In the general, she needs to turn attention away from her planned tax increases, retreat, and government control over people's lives.  Not debating in the primary will allow her to avoid discussing issues, or as she will undoubtedly frame it, she will be "busy in the Senate working on the business of the American people."
Besides, She Who Must Not Be Named can't be bothered with her subjects at least until the eve of the Iowa caucuses.
Pic via Politico
Link via Drudge