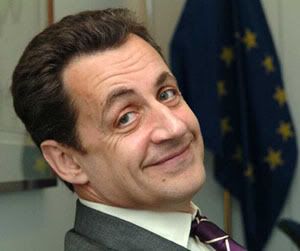 Earlier today, pro-US Nick Sarkozy has defeated Socialist babe Segolene Royal 53-47% France's hotly contested Presidential election.  With 86% voter turnout, no one can say this is not a mandate for Sarko.  Sarko's message to America: "You can count on France as a friend."  Sweet. 
In a class move (I wish we'd see more of here in the US), Royal conceded the election already and has not yet demanded that specific areas be recounteduntil the popular vote numbers make her the winner.  Nor has she been involved directly with violence in the streets.  Her coup plans have been temporarily put on hold while she waits and sees about Sarko's plunge into reengagement with France's long-time friend, the US.  If market capitalism returns to France with predictable success and McDonald's redesigns the Eiffel Tower into the Golden Arches, then all bets are off!
Pic from Foreign Policy.com.