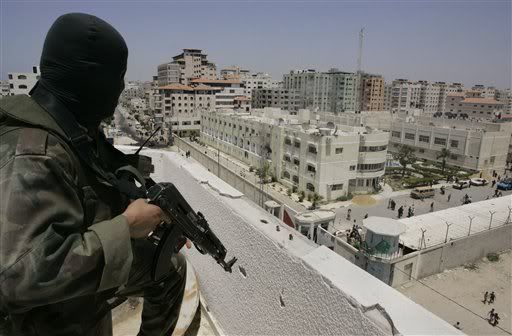 Suddenly the situation in Palestine has deteriorated to the point where the two main factions, Hamas and Fatah, are in an open armed conflict tantamount to a potential civil war.  90 people have been killed in the fighting since Sunday.  In Gaza, Hamas executed many members of the Fatah Party yesterday at a Fatah-controlled security station, prompting Palestinian Authority President Mahmoud Abbas to tell Fatah to fire back and that the coalition government is to be dissolved.  Abbas is expected to call for a multi-national force to ease the violence in Gaza.  While Abbas refers to the Hamas fighters as an "outlaw militia," the Hamas fighters cheer, "the era of justice and Islamic rule have arrived."  Why does that sound eerie and ominous to me?
This is bound to spread violence in the West Bank, and if a full-fledged civil war were to begin Hamas would easily take Gaza, and Fatah would end up pacifying much of the West Bank, oddly enough with the potential of Israeli aid!  Are we looking at the potential of two Palestines forming? 
Israel would love that.  They already feel that Abbas is someone with whom they can do business, so this could give Israel and Fatah the impetus for a major peace breakthrough through productive cooperation.  However, Hamas is a faction of radical Islamic terror, under the guise of a political party.  They won't go quietly and the bloody carnage is apt to continue.  The rest of the Muslim world, instead of sending their own aid and peace-keepers, will probably use this as another reason to kill Jews and Americans in other parts of the world (they're getting predictable).  I had a feeling that this summer would bring Mideast violence– just wait until Hezbollah kicks it up again and Iran makes good on its plans to foment more violence in Iraq just before General Petraeus' report in September.
AP photo.