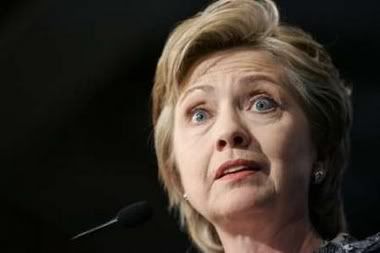 According to a new Mason-Dixon poll, 52 percent of likely voters will not even consider voting for She Who Must Not Be Named in the upcoming election. Looks like someone needs to improve her imperius curse.
This comes as no surprise. SWMNBN is one of the least likable figures in American politics. Like her appearance, her policies are nothing short of frightening. She does not trust to people to run their own lives. She plans to confiscate more of our hard-earned tax dollars to fund more government programs that don't work. She wants to nationalize the greatest health care system in the world. She wants abortion legalized at anytime for any reason. Her War on Terror outlook fluctuates with Barack Obama's poll ratings. This socialist and shallow worldview is not something people are going to flock to.
Her policy positions are not marketable and her image is just as bad. She sounds like a banshee every other time she opens her mouth. She changes her accent from crowd to crowd. She tells whoppers regarding her biography. Over the years, SWMNBN has come across as an irritable phony and people are well aware of that.
Her problem at this point is that there isn't much she can do to change people's opinions of her. Although most people are afraid to speak her name, they know what her name is. More importantly, they know what she stands for. They know her history. They know her phoniness. Her unappealing public life is an open book and has been for years now. Because she has been known for so long, there isn't much she can do to convince people to like her.
However, there is plenty of time for her to convince people that her opponent is somehow worse than she is. This will be difficult for her, especially now that her unfavorable rating is over 50 percent. It is still possible though. We Republicans need to be mindful of this as we select our nominee. She is in bad spot right now but she will not defeat herself. That is up to us.
This poll is encouraging news because Mason-Dixon is a reputable polling firm. Although they are primarily known for their excellence in polling at the state level, this nationeide poll is still valid. Their methodology appears to be sound. They sampled likely voters and their findings are not that different from Rasmussen who has an excellent track record at the national level.
Link via Lucianne