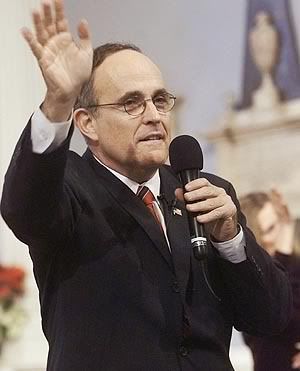 Rudy Giuliani is playing typical political games.  But as a conservative not yet sold on Giuliani I have a problem with his attitude lately.  He believes that he's the only Republican that can beat She Who Must Not Be Named, that if he were not going to be the Repubican nominee he'd rather have McCain, and that he doesn't need to participate in the Ames Iowa Straw Poll. 
I think that he think's that he's being politically savvy by essentially saying he's the only one who can win, he's helping McCain's dying campaign be more competitive against Giuliani's opponents, and that Iowa's not that important on his path toward coronation.  I'm not sure he can beat SWMNBN since he'd make more conservatives stay home than the other top tier candidates, plus the MSM's ready to let loose the flood gates of dirt on Rudy.  By supporting McCain for second place, he's saying he likes the maverick, pro-amnesty Smeagol/Gollum, which may reflect how unconservative he is deep down.  Also, by not putting in the effort in Iowa, he's taking all of his success for granted.  Iowa and New Hampshire are just a traditional part of the process.  Despite its size, Iowa is an important symbolic place to campaign in the early stages.  McCain's not showing up because his campaign has nearly collapsed, Giuliani just doesn't want to go for money reasons: a shallow and transparent excuse.
This kind of hubris may be reflecting the recent Real Clear Politics trends, but I don't like it.  I think my nominee should not have a sense of entitlement– that's SWMNBN's attitude.  I think he should earn my vote, not just expect it.  He had a good debate on Sunday, but he was not the best, clearly behind Romney, Huckabee,  Hunter, and even Ron Paul (for Paul's ability to make us all laugh!).  The only poll that matters is the one on election day, and with someone with as much baggage as Rudy, he should have a much different attitude in my opinion.
AP photo.