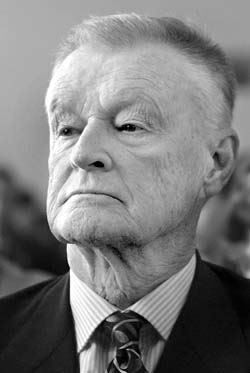 Friday, Democratic Presidential candidate Barry O'Bama got a "boost" from a premiere Democratic foreign policy "expert", Jimmah Carter's own, Zbigniew Brzezinski. 
Brzezinski believes that O'Bama has the historical sense to repair the damages that the Bushies have done to America's reputation in the world.  He actually liked what O'Bama had to say about unconditionally talking to and possibly making deals with our sworn enemies.  He did knock She Who Must Not be Named, essentially saying that being First Lady doesn't prepare you to be President.  However, it seems Brzezinski forgot about the "two-for-one" co-presidency theme of the 1992 Presidential campaign, when it was obvious that we were electing SWMNBN and her husband Bill.
The fact that Brzezinski is considered a "paragon of foreign policy eminence" in the article shows how wacky things have gotten in the minds of Washington Post reporters and editorial staff.  In case you forgot, Brzezinski was National Security Advisor to Jimmah during those dark times of the Carter years.  So, the much lauded Democrat's "paragon of foreign policy eminence" was advising Jimmah during the Iran Hostage Crisis, the Soviet invasion of Afghanistan, the collapse of SALT II, the 1980 US Olympic Boycott, the OPEC squeeze that produced gas-lines here at home, the Cambodian genocide, the communist infiltration of Central America, just to name a few wonderful foreign policy horrors under his tenure.  Jimmah was the primary character in that foreign policy freak show back then, but the man whose job was to advise him on national security issues had to have some impact… all while Brzezinski's reputation was being "hawkish."  So he likes Barry.  Good for Mr. O'Bama, at least someone does.  
AP photo.