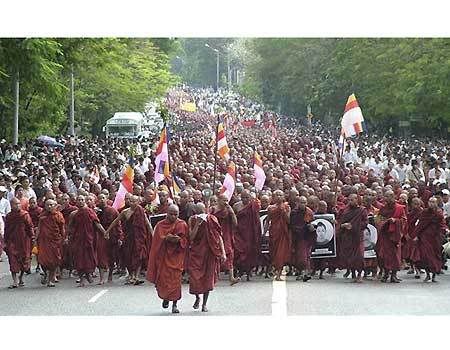 "You are the army of the people.  We are feeding you.  Be just to us."
The military junta of Burma (which they call Myanmar) has begun a crackdown of pro-democracy forces, including a protest march led by Buddhist monks.  The catalyst of the latest popular outburst was a huge increase in fuel costs that have begun to hurt the average person in a country that has been politically unstable since 1962.  The ruling junta had better be careful gunning down monks; the martyr effect could make the next few days very volatile in the Southeast Asia nation and we all remember what happened in Vietnam back in 1963 when the Buddhist monks fought back. 
Images of the bloodied monks are being plastered all over the world.  America has promised to stiffen sanctions, 27 members of the European Union have also condemned the act, but only China stands in the way of a swift UN Security Council Resolution to confront the Burmese Myanmar military government over their actions.  If China condemns the junta, then China's own oppressive domestic practices will be called into question.  If anything, China wants economic and social stability in the run-up to the 2008 Olympic games in Beijing.  As such, China and Burma are huge trading partners in the region.  With China it's all about image and money over the rights of the people to assemble and express their grievances.
AP photo.