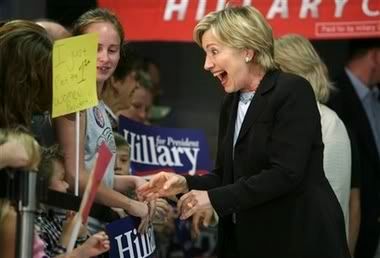 Most people wouldn't have the nerve. She Who Must Not Be Named on the other hand has no shame; so associating herself with her husband's former National Security Adviser and admitted felon Sandy Berger really doesn't concern her. Undoubtedly admired by the candidate for his scandal-making potential and lack of concern for national security, the incompetent and criminal Berger is now one of SWMNBN's campaign advisers.
A few years ago, the liberal-deified 9-11 Commission set forth to examine our nation's systemic failures prior to September 11. As part of the commission's hearings, it was Sandy Berger's responsibility to present evidence pertaining to the Clinton administration's policies and actions regarding terrorism. While at the National Archives preparing for his presentation, Berger made sure no one was looking, took classified documents containing God knows what information, stuffed them down his pants, hid them in a trailer, and later destroyed them. After being caught red-handed, Berger plead guilty to stealing the highly-sensitive classified documents.
Needless to say, SWMNBN has some answering to do. Even John Kerry had the good sense to release Berger from his campaign when it was clear he was dealing with a felon. Does the witch have the same capacity for shame? Can she at least fake it? Or, as Bill Sammon wondered, is Berger being rewarded for doing her family's dirty work? Hopefully, time will tell.
AP photo