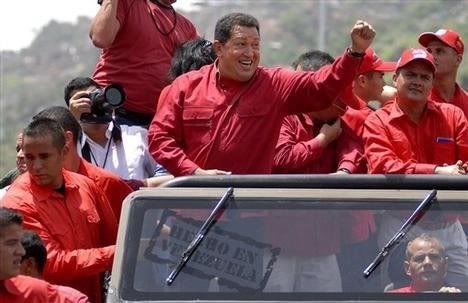 Hugo Chavez is creating a socialist paradise kingdom of his own.  We know he controls the media, we know he's nationalized industry, we know he's working with America's enemies like Iran and Cuba, but now he's setting his sights on the Catholic Church!  He doesn't yet have control over the bishops, which came out recently against a proposed referendum which gives Chavez's forces the power to detain citizens without charging them during "political" emergencies or natural disasters.  The referendum is expected to pass in December because even though it is an obvious power-grab at the expense of civil liberties, it promises to shorten the working day and provide more government handouts!  Woo hoo– an easier ride with half the freedoms!
So the Catholic Church is a bit upset about this blind attempted power-grab aimed at squashing dissent in Venezuela.  Chavez called the bishops "morally unacceptable" after they used the same phrase to describe this power-grab.  Since the RCC in Venezuela is still an independent organization that criticizes Chavez, look for the Church to be another stop on Chavez's ultimate road to totalitarianism.  Now, the church is all about giving to the poor and generally supports quasi-socialistic tendencies when governments provide obtuse social securities to their people.  Many of the nations in Latin America are fervently Catholic and have strong welfare states.  This makes Chavez look even worse because the Church has the moral high ground on many local political issues as well, and Chavez knows it.  That's what makes this a potentially dangerous situation brewing down the road.  Who knows?  Perhaps the Church may be involved in a "political" emergency of its own sometime soon.
Pic from Theodore's World blog.