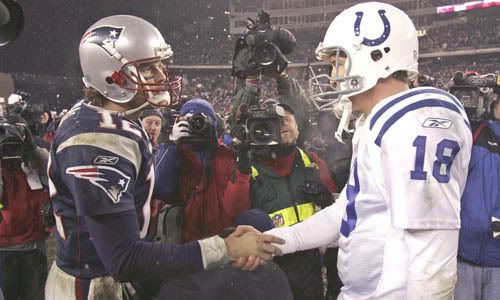 In a highly-publicized NFL Week 9 meeting of undefeateds, the New England Patriots and the Indianapolis Colts meet at the RCA Dome to play a regular season rematch of last year's AFC Championship Gamewhere the Colts came back to defeat the Pats 38-34 in very dramatic fashion to go on to eventually win Peyton Manning's first Super Bowl.  Undefeateds have never met this late in the season. 
Both teams are playing superbly and this looks to be the toughest game either of these teams will play this year– they both seem to start games slow and then blow everyone out.  They are the two best teams in the NFL.  They have had a recent history of playing big games against each other: the winner of this game could end up having homefield advantage in the playoffs.  So, I think that the hype is real and no one is going to run away with this game.  We'll be entertained for four full quarters.
I am rooting for the Patriots (big surprise).  I think the Colts beat people with fundamentals and talent, but the Pats have destroyed their opponents in a supremely dominant way in all three areas of the game, dismantling teams in the second half all year.  I think the Pats have more talent this year and have a chip on their shoulder, but there's something about the Colts at home against the Pats.  The Colts seem to have gotten into the Pat's heads lately, so a psychological advantage goes to the Colts, who are playing at home.  They can both put up 30+ points a game and play 60-minutes of smashmouth ball.  But, my heart is with the Pats in this game– they're mad, sick of losing to the Colts, and tired of being called cheaters.
Pic from Newsday Blog.