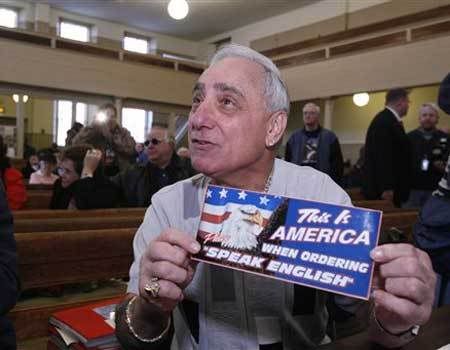 In today's Culture Wars battlefield, even speaking the common language is a concept under assault by the Left and foes of the kind of assimilation that for over 200 years has aided new Americans in achieving the American Dream. 
I've driven by, but have never been to, Geno's Steaks in Philadelphia.  In the window is a conspicuous sign stating, "This is America.  When ordering 'Speak English.'"  Geno's Owner Joe Vento is defending the sign even though he's getting a lot of criticisms, especially accusations of the sign being discriminatory.  Vento believes that its a legitimate business practice since so many people have not been ordering in English over the last few years and he wants to make money by getting the lines to move faster.  Lawyers for the Commission on Human Relations believe the sign to be "intimidating," hearkening back to the days of "Whites Only" signs in the Jim Crow South.
Congress needs to pass a law making English as the official language of government.  Then, private business and other non-government groups will have the freedom to choose the best business model without all the discrimination from liberal groups.  I have about ten Spanish-speaking channels on my cable plan.  I don't want them, but my cable network is not a la carte so I have no choice but to pay for those stations that I will never watch.  Why isn't that discrimination against English-speaking cable viewers that don't want to pay for channels they don't want? 
Because I can change the station to one that speaks the common tongue.  If you don't want to order a cheesesteak in English at Geno's, then don't eat at Geno's.  It's Philadelphia, and I'm telling you, other places sell cheesesteaks!  Why do we need a lawsuit against Joe Vento when one can freely choose to boycott the restaurant?  "Whites Only" was the articulation of a policy that was mandated by the state and unfortunately sanctioned by the Supreme Court in 1896.  "Speak English" is a concept quite ignored by our politicians.  In my opinion, the state should leave Geno's alone and those upset about the sign should eat somewhere else. 
AP photo.