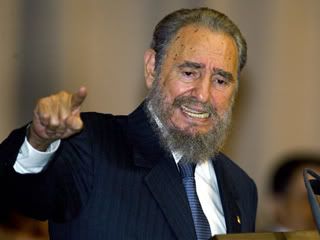 Fidel Castro has been a tin-pot communist dictator of his large Caribbean island since 1959, but suddenly word comes out that he's not resubmitting his name as a candidate for President – Little Havana's pretty happy, President Bush is optimistic yet cautious.  I'm skeptical — almost waiting for there to be some kind of "catch." 
I hope things work out for the Cuban people, but I would not be ready to lift sanctions just yet.  I need proof that this is a positive step — Fidel's brother, Raul, could end up being a full-fledged tyrant worse than Fidel now that Fidel's powerless.  What if a military coup replaces the Castro regime with a new even worse one? 
Either way, it's a step in the right direction, but I'll keep my elation muted for the present, just to see how this whole thing plays out.
AP photo.