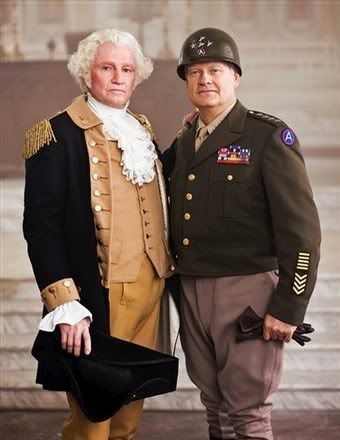 I just got back from David Zucker's political spoof An American Carol.  It's Charles Dickens for the pro-American American.  Here's O'Reilly covering the trailer.
Without giving anything away, I must say this about the film:  it's got some really great political satire and sweet moments with great Americans-past, but much of the movie is Zucker-style Naked Gun-type jokes, juvenile and kind of stupid.  There are plenty of laugh-out-loud moments and "Michael Malone" (aka Michael Moore) says a few Lefty lines that perfectly encapsulate the mindset of today's Liberal.  Example:
"I love America.  That's why it needs to be destroyed." 
Plus, I love the way Zucker portrays the ACLU!
I thought it was very good political satire, making Libs seem as silly as they are, while underscoring the sacrifices people make in order to defend this country and our way of life.  This movie should make a few bucks.  There have been so many anti-American movies out of Hollywood lately that this movie, despite its occasionally juvenile humor, is bound to do pretty well. 
This one's tough to grade. A- for relevant political satire, but C for occasionally being too silly.  If you see it, please feel free to grade the film in the comments.  Since I'm a teacher, I use the A-F scale, no stars.
AFP photo.