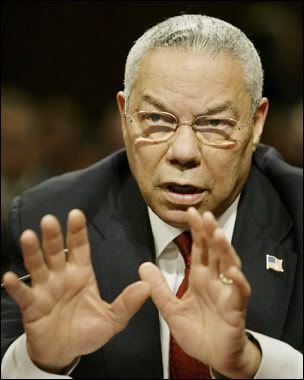 The RINOs have a new face this morning:  Colin Powell. 
The still self-professed "Republican" said on Meet the Depressed this morning that Powell will be voting for Obama because The One has run a positive campaign and is a "transformational figure" for America and the world.  Truth is we need a President who can articulate American values clearly and confidently so that others can emulate us, rather than a President who will cow-tow to those who wish us harm in an attempt to impress those who won't like us no matter what'll we do.
Many knew this was probably coming:  I'm sure Powell's been looking forward to this moment since he was dumped in 2004 for having views different than that of his boss. 
Yet, Powell admits he doesn't want taxes going up or the debt to expand and believes the Surge was the right strategy.  So, he's voting for the guy who says he will raise taxes, whose spending will only balloon the debt, and a man who still won't say his vote against the Surge was wrong!  To add to that, Powell, thinking Obama the better option this time around, will vote for The One but not campaign for him!  It makes no sense on paper, but then again, I don't fully understand the self-destructive vein in the RINO thought-process anyway.  That, or it's a "black" solidarity thing.
AFP photo.