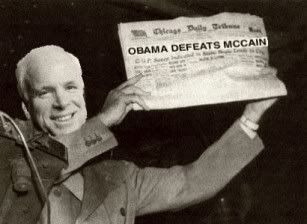 There are 9 days until Election Day and John McCain has to make his final pitch to the people, unload all his cash, unleash the 527s, and unfortunately hope for something unexpected to help.  Dick Morris wrote an oped which lays out how three times since World War II, the underdog made up the difference in the last week or so: Truman 1948, Reagan 1980 and Clinton 1992 (he also adds Gore in 2000 as an unusual case). 
Morris thinks McCain can be the next one to do it and his prescription is simple enough: use the tumbling market to highlight Obama tax policy, bring back Reverend Wright, and warn about how Democrat dominance = socialism.  Not a bad strategy if done passionately.
In my opinion, McCain also needs to stop running for President like he's jockeying for Senate street-cred after his potential loss next week.  Why not bring up Reverend Wright, or as Morris points out, why not let the 527s let loose on him?  Those voters who think McCain's a racist have already been built into the poll-handicap, but many others remember Wright as "anti-American," not "black" (which is, I'm sure, McCain's biggest fear about bringing Wright up).  What's McCain got to lose?  Except, perhaps, a Presidential Election where McCain has handicapped himself in too many ways for no good reason.  Politics is a contact sport and McCain has to stop letting Obama, the wuss-like elite Liberal snob, look tougher than he is.
Low-Down Central blog photo shop.