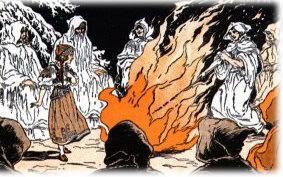 It's Halloween today! 
Have a great time at the party, with the kids trick-or-treating, or in a quiet night watching campy horror movies at home on TV.  May I recommend a live ghost-hunt by our friends from TAPS on Sci-Fi for those on the couch?  This may also be the last evening before Christmas sale commercials overwhelm the airwaves.
We celebrate the dark sides of reality on Halloween — the Druids believed that the unrestful dead come back on this night to torment the living.  The real supernatural evening when the dead will rise and no doubt vote will be November 4, with a true fright possible on the morning of the Fifth!
Chalice Centre pic.