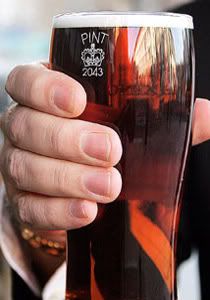 It's no secret that our British friends like to have a good time with the drink.  I look back upon my own time doing it with them with great fondness. Unfortunately, some British lawmakers are allowing their love of government to trump the right of the individual to enjoy his free time.  Some British lawmakers are proposing to ban happy hour in pubs due to the anti-social behavior of a few of Britain's overserved.
This kind of disregard for the liberty of law -abiding citizens is becoming commonplace all over the world.  Left-wing politicians need to learn that not everyone who engages in adult activity does so irresponsibly.  Not everyone who knocks a few back after work winds up like this chick.  Not everyone who even gets sloshed gets belligerent and anti-social.  Rather than interfering in the lives of law-abiding citizens who want down some pints, usually after work I might add, why can't politicians simply punish those who actually disturb the peace after being overserved?  This should be especially easy in the UK where they have cameras covering every square inch of the country.
But no, lefties can't punish lawbreakers.  They would rather spend taxpayer money on ads showing messy chicks losing their buffet dinners on the sidewalks.  They can't punish lawbreakers.  They would rather take happy hour away from normal people.  That, not the beer, should make people want to hurl.
Pic via Supanet