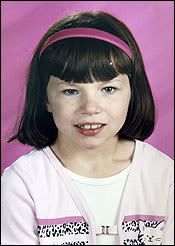 Two years ago on these pages, I followed the remarkable story here in Massachusetts of young Haleigh Poutre.  A victim of abuse, she ended up on a feeding tube and breathing machine.  Doctors diagnosed her as being in a persistent vegetative state, and unable to recover.  The state wanted to bring murder charges against her father, so they pushed to have her removed from the ventalator and end her life.  After a long court battle, the Massachusetts Supreme Judicial Court agreed.
Remarkably, a day after the decision, young Haleigh started breathing on her own.  Doctors began to question the initial diagnosis (leading me and many others to question the whole concept of persistent vegetative state).  A month later, she was responding to simple commands, and declared to be in a "Minimally Conscious State".  It was argued:
Some neurologists say Haleigh's actions suggest she may have moved into a "minimally conscious state," in which patients are aware of their surroundings and can respond to commands.

That condition could sometimes strengthen arguments to withdraw life support, because such patients can feel pain, some medical ethicists said. Patients in a vegetative state, on the other hand, are oblivious to the agony that is part of their life.
Yet the medical experts were wrong yet again!  Haleigh is now writing her own name, communicating, brushing her hair, and feeding herself!
This shows that one should always err on the side of life.  The government had written Haleigh off, and she proved them wrong.  How many others are out there, where hope remains?  Who is the state or anyone else to determine that this young girl had no value and should have her life ended for her?  Who knows how much potential she has to recover, and what kind of life she will lead?  This beautiful child is a wonderful example of the value of every human life, and how that life should always be cherished and respected.