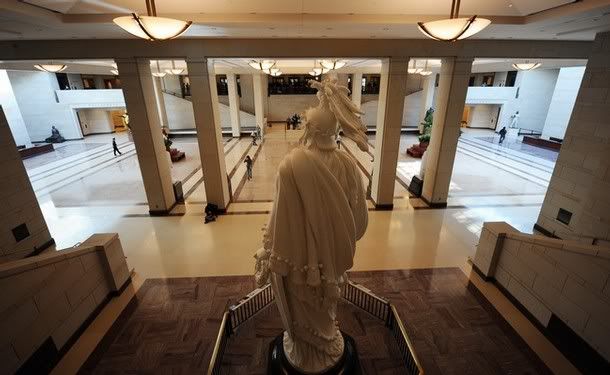 By now you've heard Harry Reid's unnecessarily bourgeois remark about the obnoxiously over-priced Capitol Visitor's Center which will graciously prevent "smell[y] tourists" during the summer from disturbing his very important office work.  I'm starting to understand why the Bastille drew such a crowd back in the day.
On the other hand, another Senator, Republican Jim DeMint from South Carolina, is upset with the new CVC because, like the World War II Memorial, makes little or no mention of God in the history of American political foundations.  Without God, there is no philosophical foundation for any of our rights – it's kind of an important concept.
I'm sure the place is impressive, massive and thorough (except on Natural Rights and God), but a complex $350 million over budget (coming in around $621 million) and years behind schedule is the perfect reflection of what those who serve in the Capitol itself have become  – dedicated by those who believe the people serve them (not vice versa), devoid of God so that the altar of political correctness can have another sacrifice, and costing too much, too late, with too little impact.  Imperfectly Washington.
AFP photo.