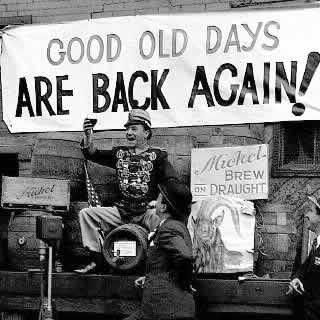 75 years ago yesterday, Americans in their infinite wisdom repealed the Eighteenth Amendment ban on alcohol.  Some came to call the anniversary of December 5, 1933, "Repeal Day" so that we could celebrate the joys of being able to celebrate more fully in a free society!
The 18th Amendment was the only Constitutional Amendment in our history to be repealed.  FDR advocated the repeal of Prohibition because the government could tax the sale of alcohol (typical Democrat) and generate revenue for programs like the New Deal's smiley-fascistic behemoth, the NRA (thrown out by the Supreme Court for being too statist in 1935). 
Others wanted to repeal Prohibition because Prohibition is a perfect example of a law that runs counter to the norms of a society — liberal social engineering Temperance-style (remember that the "Progressives" were the libs of the day and most of them loved the idea of social engineering at any level).  Though they believed their heart was in the right place, their big-government methods were way out of whack with society since the "cure" for this social ill was typically more dangerous than the disease — people were going to drink anyway, but without the market safeguards on safe and tasty products.
So, Repeal Day is a day to celebrate a "return to normalcy," as President Harding would say.  I'll drink to that… because I can drink to that!
Pic from the National Constitution Center.