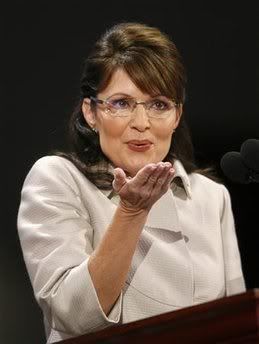 Today's Ann Coulter column naming Sarah Palin as Conservative of the Year on behalf of Human Events had me laughing out loud when I first read it. Of course Ann Coulter columns always make me laugh out loud, but trust me, this one is a real doozy. The entire column is worth a read, but two parts stood out to me.
The first is the part where Coulter slams the media for its double standards in the way they covered Palin compared to the way they covered their liberal heroes:
True, Palin made some embarrassing gaffes.

She complained that we didn't have enough "Arabic translators" in Afghanistan — not realizing the natives don't speak Arabic in Afghanistan, but rather a variety of regional dialects, the most common of which is Pashtun.

Speaking to military veterans one time, Palin said, "Our nation honors its unbroken line of fallen heroes — and I see many of them in the audience here today."

She bragged about passing a law regulating the nuclear industry that it turned out never became a law at all.

Some days Palin said Venezuela's dictator Hugo Chavez should suffer "regional isolation" — but then on others she'd say she supported the president's meeting with Chavez.

She told one audience about recent tornados in Kansas that had killed 10,000 people. In fact, a dozen people were killed in the tornados.

She referred to the "57 states" that make up the U.S.

Speaking of her eldest daughter's pregnancy, she said Bristol was being "punished" with a baby.

As you probably know — or guessed by now — none of these gaffes were uttered by Palin. They are all Obama gaffes. Luckily, he made them to a star-struck press that managed not to ask him a difficult question for two years.
Spot on. This year, the media went out of their way, sometimes even making the stories up, to portray Palin in a negative light while simultaneously ignoring liberals' mistakes that would have finished Palin if she had made them. There is little doubt in my mind that Sarah Palin would run political circles around her opponents if the media covered Palin the same way they cover liberals or covered liberals the same way they cover Palin. Annie C. really drove the point home.
The second thing I appreciated was admittedly juvenile humor. It's hardly a newsflash that conservative women are hotter than liberal women. Nevertheless, when Ann Coulter starts to make the point, even though I know where she's going, I need to make sure I'm not sipping a beverage:
Despite their phony championing of "women's issues" (i.e. abortion) there was not one Democrat woman who could win a head-to-head contest with Palin. Especially not if we got to see their faces. Democrats may have a fleet of women politicians, but they don't have a deep bench of attractive ones. You don't even think of most Democratic woman as women: Rosa Delauro, Nita Lowey, Patty Murray, Janet Napolitano — and the list goes on. Oh, sure, there are the odd female Democrat sex kittens — your Janet Renos, your Donna Shalalas — but they're the exception to the rule.
So obvious, yet so funny and true.