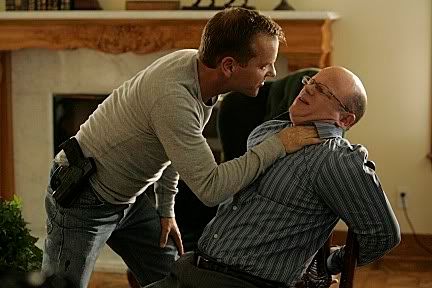 Jack Bauer is facing heat in the latest season of 24, which airs its first two hours tonight on Fox.  Here's the official trailer:
 There is a new Administration, there haven't been major attacks in the US for years and those who had to make tough decisions and once used "advanced interrogation techniques," like Jack Bauer, are facing Congressional Hearings on their actions.  Sounds ominously like the kind of Monday-morning-quaterbacking the Left would engage in if they had the chance.  There is a female President (I'm sure the writers anticipated a Hillary Clinton victory, as the show should have aired last January) and a new set of circumstances to unravel as the season progresses. 
There was a 24 prequel a few weeks ago to start the action right away tonight, 24: Redemption, in case you want to get caught up.  It's not completely necessary to have seen all six previous seasons to pick it up now.  I didn't get hooked on 24 until Season 5.  I followed it just fine, and only afterwards did I see Seasons 1-4.  I picked up a few things, but it didn't ruin my experience at all.
Hopefully, Season 7 will not disappoint, though as soon as things start blowing up and Jack is unleashed everything should be cool.