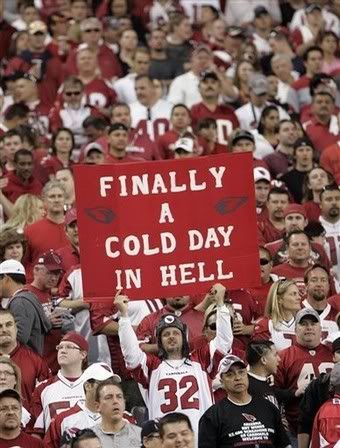 Is this a sign of the apocalypse?  Perhaps, but it is nonetheless true:  the Arizona Cardinals (one of the perennial laughing-stocks of the NFL) are going to play the Pittsburgh Steelers in Super Bowl XLIII on February 1!
Both Conference Championship games were exciting in different ways.  If you're an offensive person, you liked the first game where the Kurt Warner and the Cardinals defeated McNabb and the Philadelphia Eagles 32-25.  If you like defensive chess matches, you liked the second game where the Steelers defeated the spirited Baltimore Ravens 23-14.  I just plain like football so I enjoyed them both!
Anyone would pick the Steelers to win it all in two weeks and they'd probably be right, but I may root for the Cardinals anyway — they're young, they have spirit, and (selfishly) I only want the New England Patriots to have won more than one Super Bowl during this decade (Pittsburgh already won in 2006).   But, I'm not really a Kurt Warner fan and the Steelers are a great, solid team worthy of respect.  Hmm… I have two weeks to decide.
On paper, the Steelers should kill them on both sides of the ball, but Arizona is feisty enough to hopefully make it a game.  However, historically most Super Bowls have been blow-outs and on paper, this should be a blowout too.