I am getting the feeling that history books will look at this economic crisis and wonder what the hell we are doing?  It seems that the idea of billions and trillions of dollars has lost its shock value with the American People.  We had a $750 billion TARP bailout package, the FED has increased the money supply exponentially, we are on the verge of passing a $900 billion stimulus package, there is talk of a TARP II, and Democrats are still saying that's not enough.  Keep in mind that the stimulus plan of 1993 that Clinton proposed and passed was a whopping $51 billion.
Ace has a graph up on the increase in the money supply over the last 100 years.  Notice what happens in 2008/2009.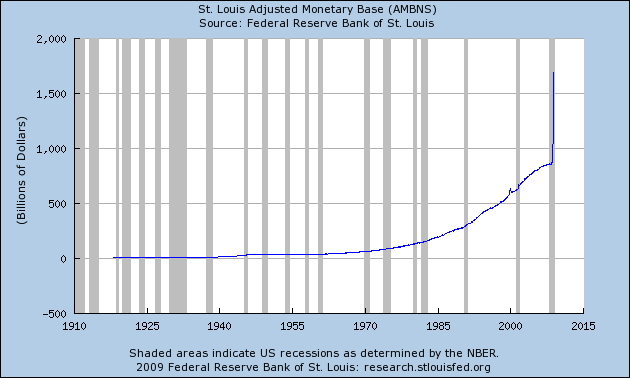 Note that the money supply is relatively stable for most of the 20th century.  It starts to climb in a curved fashion in the 1970s, and is slowed down a bit this past decade.  Last year, it shot up 90 degrees.  I am no economist, but I hardly think that any good will come from that.  What were we thinking?