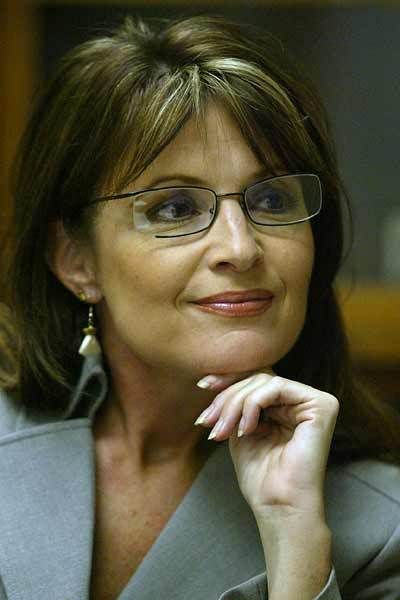 HotAir's Allahpundit has made it known for quite some time that he is no fan of Sarah Palin.  In the world of political discourse and debate, that is fine.  People can have differing opinions and views on who would make the best candidates (I personally think that Sarah Palin has a great future in the GOP), what polices would be best, etc.  The trouble is, Allahpundit is now taking his dislike for Palin and using it to cloud his judgement when reading any stories about her in the Drive-By Media.
Take a recent AP story, headlined GOP Governors Press Congress to Pass Stimulus Bill, in which it is said that the GOP Governors are at odds with the GOP members of congress, and are in favor of the Economic Stimulus Package.  It lists Sarah Palin as meeting this weekend with Mitch McConnell to lobby for handouts for her state:
Most Republican governors have broken with their GOP colleagues in Congress and are pushing for passage of President Barack Obama's economic aid plan that would send billions to states for education, public works and health care.

Their state treasuries drained by the financial crisis, governors would welcome the money from Capitol Hill, where GOP lawmakers are more skeptical of Obama's spending priorities.

The 2008 GOP vice presidential nominee, Alaska Gov. Sarah Palin, planned to meet in Washington this weekend with Senate Republican leader Mitch McConnell of Kentucky and other senators to press for her state's share of the package.
This story does not contain any quotes from Sarah Palin, or states what her position is, but rather makes assumptions based on her meeting with McConnell.  Allahpundit takes the story at face-value, and doesn't do any investigative work to validate it's accuracy, but instead tries to bait HotAir's readers into responding:
Exit question one: She was instantly forgiven for supporting amnesty and TARP. No biggie on this either, right? Exit question two: I'm getting yet another demerit on my conservative permanent record for even pointing this out, aren't I?
Allahpundit deserves to be chastised, not for pointing out a potential flaw in a candidate, but rather for spreading an inaccurate and unsubstantiated portrayal of Palin's position in the hopes of alienating some of her supporters from her.  The trouble is, the facts of what she has said do not match up with this AP story, or Allahpundit's insinuation.  RedState, for example, has the same story with a completely different headline from the AP, entitled Republican Governors Leery of Stimulus, and points out that Sarah Palin supports infrastructure funding that served the national interest, but not all of the other pork, such as gas pipeline construction and upgrades to military installations in Alaska.  Even a simple search on her official website would have found that her position on the stimulus is not to get it passed, but to lobby for a couple of projects that she thinks serves the interests of both Alaska and the Nation.
Conservatives have chastised the Drive-By media for years for writing stories that are based on innuendo and are not backed up.  We have criticized the media for taking people down with false or incomplete statements half-truths, or speculation.  We on the blogosphere have a responsibility to make sure our facts are in line before we try to take down a specific person that we don't like.
Sarah Palin may or may not be one of the future leaders of the Republican Party and the Conservative movement.  Time, as well as her words and actions, will dictate that.  Allahpundit's "gotcha" journalism aimed at discrediting her among her supporters was irresponsible and worthy of something you would see out of MSNBC.  If Conservatives keep trying to eat their own without cause, then we have no shot of ever again becoming a majority party.