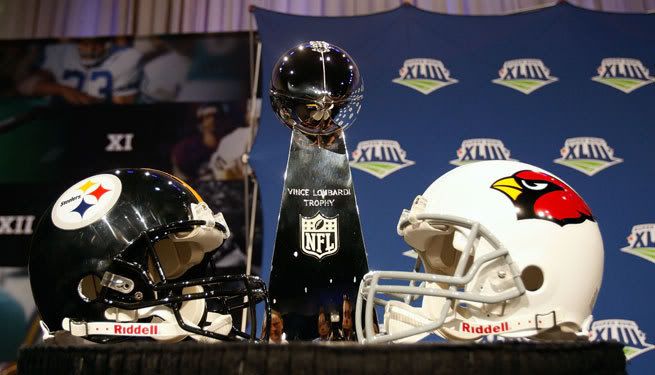 Long have there been calls to make Super Bowl Monday a holiday since absenteeism and productivity resulting from the Super Bowl "flu" can be costly: last year 4.4 million late-ins and an estimated 1.5 million extra absences were phoned in.  Some have also estimated that $16 million per minute lost during the week preceding the Super Bowl on people running office pools, discussing the Big Game on the clock, and from less productivity due to hangovers.  Even the city of Pittsburgh is opening schools two hours later tomorrow anticipating the need to cut down on absenteeism!
Now the liberal approach would be to ban the Super Bowl altogether — being a contact sport and a source of joy for tens of millions, it's a perfect target for miserable liberals to rain on everyone's parade in a self-righteous attempt to dictate their own lofty priorities over ours.  In fact, the few people I know who don't watch or make a big deal about the Super Bowl regularly happen to be self-righteous miserable liberals.  Go figure. 
Yet, alternatives exist.  Super Bowl Monday.com is a site devoted to making tomorrow a national holiday.  Good for them — hope it pans out well.  Here are two other solutions:
Moving the Big Game and the NFL season back two weeks to have the Super Bowl coincide with MLK Jr. Day: most people have that Monday off anyway.
Keeping the schedule the same, yet moving the Big Game to three o'clock Eastern, noon Pacific, would also probably work too.  Sunday afternoon is traditional football time, so the time adjustment wouldn't inconvenience true fans.  However, it may cut into the market for those who only watch football on Super Bowl Sunday as it does cut into Sunday prime time TV.
That or just suck it up, wimps!  Having a lazy, eye-squinting, antacid-filled Monday is an American tradition itself.
So, (on to more pressing issues) who do you think will win the Super Bowl? 
I still believe the Steelers will beat the Cardinals, though my heart is with the Cards.  If the O-line gives Kurt Warner some time, the Cards could keep it close: 24-17 either way.  If not, it could easily be a 31-10 Pittsburgh blowout.  I kind of agree with some who believe that during Super Bowl week the press hypes-up both team's chances, when that's not necessarily the case.  Yet, how on God's Green Earth could a prima donna 10-6 NY Giants team beat the statistically best offense in NFL history?  But, they did.  That's why they play the game.