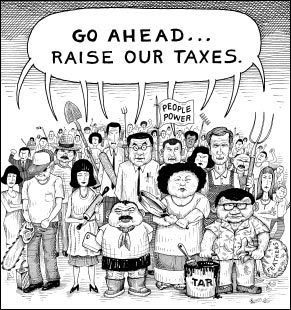 The idea for a "Chicago Tea Party" is growing.  Since CNBC's Rick Santelli's rant on Thursday, this website has popped up and news about other tax protests (not revolts just yet) are proliferating everywhere except in MSM coverage– they don't seem to care or notice.
Question, though, if this is to morph into "Tea Party USA" as some have urged:  Will this be a "symbolic" toss of some kind or will something actually be dumped into Lake Michigan or the East River?  Will it be suggested that people refuse to submit their taxes this year or next year?  Will nationwide boycotts of newly taxed products emerge across states whose legislatures have raided their pockets in new and clever ways? 
If this is a real movement, it's obviously still in its infancy.  Lots of passion and frustration exist, but not really a lot of organization, leadership, or plans just yet.  Marches are cool, but can easily be shrugged off by the Obama Nation simply saying "Isn't free speech wonderful!"  I'm all for this movement in principle and would join a nearby march.  But what is the movement's ultimate political goal?  Some taxes must be payed to maintain a civil society and boycotts tend to hurt the local guy selling the product rather than the tax agent himself.  We'll see where this goes in the coming months.  Thus far, however, I like the gumption and idealism behind these protests.