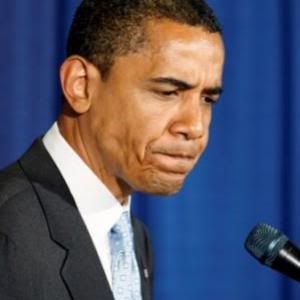 The signs are becoming increasingly clear that Obama is in way over his head.  Supporters tout the quick passage of the stimulus and omnibus, but those were practically inevitable given the large majorities enjoyed by the Democrats in Congress.  Yet with the first fifty days of his presidency in the history books, his missteps far outweigh his achievements, and the early signs are that Obama and his team simply are not up to the job.
Obama's missteps are many.  From the overabundance of withdrawn nominations for cabinet and other administration positions, to his complete and utter lack of decorum with our allies in the United Kingdom, Obama has shown himself to be everything we feared him to be.  His incredible lack of experience has made him an embarrassment, and those on both the right and the left are starting to question his competency.
Indeed, what does it say about his administration when British officials can't reach anyone in the Obama administration to coordinate planes for the upcoming G20 summit?  It makes one wonder how the Obama Administration will respond to a real crisis, such as a terrorist attack or a natural disaster such as Katrina.  It is obvious that they have no capacity to even look at the economy, with the Treasury Department without any staff and Tim Geithner seriously floundering.
It is painfully becoming more obvious by the day that Obama is not cut out for this job.  In many ways, the early part of his administration is reminiscent to that of the early Carter administration.  The real tragedy is that, while incompetent, he enjoys large majorities in Congress, and can pass his agenda at will.  While not impossible, stopping him may be difficult, and we may go through a lot of pain in this country until we are able to undo the policies of this radical liberal yet incompetent administration.