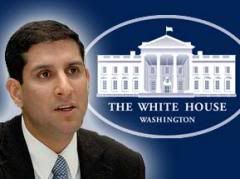 One of the mantra's from the left used heavily in 2006 was the so-called Republican "Culture of Corruption."  It seems like this label would apply more aptly to the Obama Administration.  I cannot remember an administration in my memory having more problems with appointees in the first 100 days.  Besides all of the tax cheats and withdrawals, there is now an apparent federal investigation involving Vivek Kundra, appointed last week to be the Government's first-ever CIO.
This morning, Kundra's office, where he currently serves as CTO of Washington, D.C., was raided by the FBI.  Two of Kundra's aides, Yusuf Acar and Sushil Bansal, have been arrested.  The FBI is currently still on location, and all personnel have been sent home, with the exception of senior executives, including Kundra. Updates will be posted here if they become available.
Should all of these criminals in the Obama administration surprise anyone, considering that Obama comes from the corrupt Chicago Political Machine?  Looks like you can take the politician out of Chicago, but you can't take Chicago out of the politician.  Any bets on which administration appointee will crash and burn next?