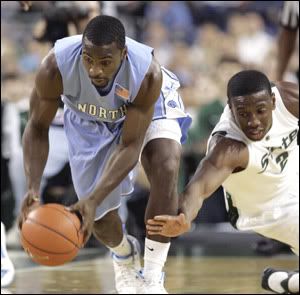 Yup, the moment I pushed for UConn was the moment that somewhere deep-down I knew they were going to lose!  I haven't been very good at my picks in general lately.  So yesterday, in a pair of not-so-good games down the stretch, two dominant teams arose from the field of 65:  Michigan State University and the University of North Carolina.  The Spartans beat UConn 82-73, while the Tar Heels beat Villanova 83-69. 
Michigan State and UNC met earlier this season on December 3rd and UNC beat them raw by 35 points (98-63).  While Michigan State was missing a few players and weren't clicking on all cylinders back then, I still believe that in tomorrow night's National Championship Game (9:21 pm EDT tip-off), UNC will find a way to beat them decisively.  But, don't rely on my analysis — I picked Louisville and Pitt for tomorrow night's game!
NOTE:  I'm still watching 24 until 10pm anyway, checking the Game only during commercials.  This season has been the most entertaining in my opinion since Season 3 and things got much more intense at the end of last week's show.