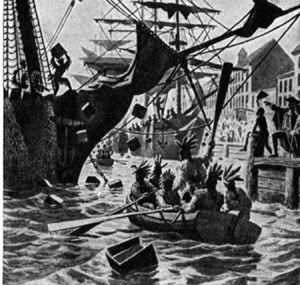 Remember that blurry celebration about 3 1/2 months ago with all the booze, confetti, ball dropping and midnight smooching?  That was New Years.  Now, think of ALL the time between then and this very minute.  Today is the national average date on which we have finally paid off our 2009 tax debt to the government!   The rest of '09 belongs to us – free at last!
Not every state is created equal, however.  In New Jersey, I have to wait until April 29 – with 119 working days to pay off my tax debt, making NJ the second worst tax-state in the nation behind Connecticut!  Massachusetts is 7th worst, New York is 3rd worst, and Rhode Island is 10th worst.  For a chart to find your state, click here.  Alaska not only has Super Sarah, but also is the state whose tax burden on the individual was paid off the earliest, March 23.
Yet, that doesn't mean one should put away all the fervor for Tea Party celebrations on Wednesday.  If you're not sure if there is a Tea Party near you, please check this site for confirmed events.  I'm definitely going to try to be at one in NJ on Wednesday — you should at least try to get to one too, but I'll understand if you're working since the people who this affects the most tend to be the most industrious and hard-working.