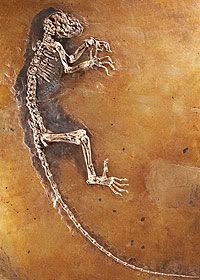 The lemur/monkey, Ida, is a 47 million year old skeleton which indicates a common ancestor to both the lemur family and the monkey family. 
It's a neat find, but does it tells us anything new about human evolution?  Yeah, but not in the right direction… we're supposed to get closer to the Ape-Man, not further away!  When I heard about a "missing link" being found on the on the evolutionary train I was expecting some kind of big-browed, human-like upright skeleton, that if you just put some skin and a prehistoric haircut on it you'd see an almost-us! 
Alas no.  Put skin and a prehistoric haircut on Ida and she'd look like a dinosaur kind of thing!  That's simply not enough to get me excited about a missing link.