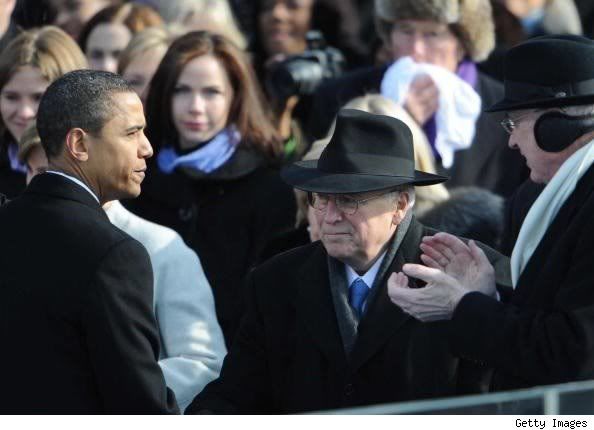 I've liked Dick Cheney since the summer of 2000.  He was going to be a steady hand at Veep, had no ambition to be the top dog, so he decided to shoot from the hip and be the Administration's authoritative voice on security issues.  He beat the heck out of Joe Lieberman in the 2000 Veep debate and in 2004 made Edwards look like a whiny little… well, you know.  Because the press was covering for both Lieberman and Edwards, the general public had no idea how thoughtful and biting Dick Cheney could be when taken to task (beyond the Darth Vader caricature of course).
Yesterday, it was Barry's turn to look like a whiny, defensive, Kerry-like weakling compared to the logical, authoritative common sense of the former Vice President on the issue of security (too bad no one had this kind of conversation BEFORE the election last Fall, but oh well).  Dick Cheney's not winning a popularity contest (though his stock is rising), but he was part of a team that kept us safe for seven years and knows a little something about our enemy — he's pragmatic, not ideological like our Young President.  Here's a decent contrast of the two speeches yesterday.
Here is the beginning of the actual Cheney speech:
Then Part 2, Part 3, and Part 4. 
Why do the MSM and the Democrats like Our Leader hate Cheney so much?  Easy!  Just like Bush, Palin and others they have sought to and effectively demonized, Cheney is a real danger to them, a threat, a straight-shooter whose logic and common sense cut through the Left's populist dribble and shows a reality, whereas the Left would prefer subterfuge and shallow Camelots to pine over forever.  Otherwise, they wouldn't care.  That's why yesterday's duel was so awesome to me… Cheney obviously won.