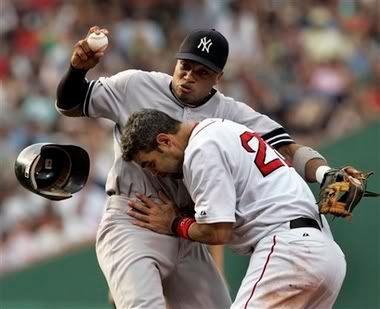 It's been 0-8 for the New York Yankees against the Boston Red Sox so far this season.  Last night was a punishing exhibition of pain to the Yankee fan:  up 3-1 by the bottom of the 8th in Boston and blowing it 4-3 by the end. 
The Yankees will have time to think about this since the next game against their rival is on August 6 — 55 days to mull this over.  The Yanks play the Mets shortly (their cross-town rival) and should beat them soundly; the Mets' season has been one of persistent promise very short on deliverance, whereas the Yankees have lots going for them with CC Sabathia generally pitching well, Posada healthy, and A-Rod up to par. 
It's puzzling, but then again it's only June.