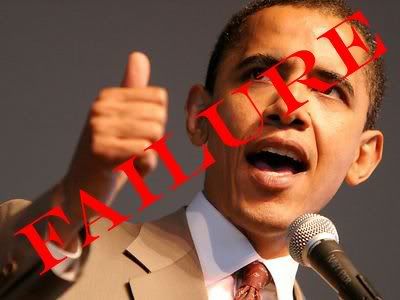 The Democrats have, according to the state-run media, a wildly popular president in the White House, a large majority in the House of Representatives, and an almost filibuster-proof majority in the Senate.  So why does it seem like Obama's agenda is quickly unraveling?
I have contented for a while now that Obama is trying to do too much, too fast.  One theory is that he has been trying to push his agenda through quickly because of his high popularity, and because liberalism as an ideology is not all that popular with the American people.  Obama has been trying to push as much liberal policy through at once, and because he lacks real experience, has really no concept of the slow-moving mechanism of the 100 egos in the Senate, not to mention the House.  Obama is drawing from the experience of the only legislative success of his young Presidency, the Porkulus, and is assuming that everything will go that easily and that quickly.  Unfortunately, he is now learning that Congress is not there simply to do his bidding, and his major initiatives are in danger of stalling.
Currently, Obama is attempting to push through a massive socialization of our nation's Health Care system, "climate change" cap-and-trade legislation, amnesty for illegal immigrants, and now the most massive overhaul of financial regulations since the Great Depression.  This says nothing of his non-legislative initiatives, such as the restructuring of the automobile industry, the closing of Guantanamo Bay, and the establishment of dozens of Czars to try to make an end-run around the Legislature.  The problem Obama is now having is that by focusing on many large initiatives at once, it is difficult to focus a PR strategy to get the American people to buy in.
It doesn't help that Obama's proposals have many provisions that aren't popular, such as his $1.6 trillion health care plan's public option, and that his priorities do not line up with those of the American people.  Recent polling by multiple outlets has shown that the American people are concerned about the economy, as well as the massive increase in the Federal Deficit over the past nine months.  While they still blame Bush for these things, they are wary of any new spending initiatives that may come along, and most of Obama's proposals will bloat the federal deficit to unprecedented levels.  People are also unhappy with the near double-digit unemployment, and want Obama to focus on that rather than health care.  Most people don't buy the argument that Obama is trying to make that the economy can be fixed by fixing health care.  All of this contributes to Obama's health care initiative  now being on life support.
All of this presents a window for the Republicans.  By harnessing public opinion, they can halt or significantly water down much of the Democrat agenda.  By pealing away Democrats from purple states who face re-election in 2010, the GOP has a shot at killing some of the more egregious aspects of Obama's agenda.  The opportunity is now here to do serious damage to Obama's agenda, and we'll be better off as a nation the more of Obama's agenda we can stop or water down.