Most Beneficent Exalted High King Barry I is nothing of the sort.  Scott Rasmussen, whose polling is amongst the most trusted in America, has developed the "Presidential Approval Index."  The PAI gauges the difference between those who "Strong Approve" and those who "Strongly Disapprove" of the President. 
Well, yesterday it reached zero.  Here's the chart from Rasmussen Reports which indicates where he's been and where he is: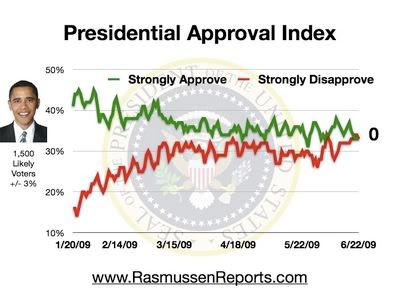 Obama is still relatively popular in general, but the trend is plain to see.  While still viewed positively by most Americans, Obama has at least come out of the atmosphere right now due to too much promise, too little money, and too few results.