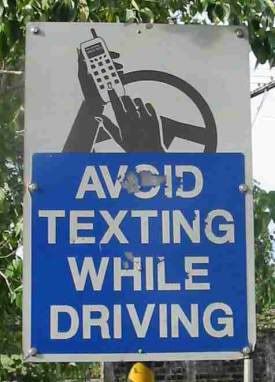 Here's a study you know everything about before you even click on the link:  texting while driving is… (wait for it)… pretty dangerous!  I know this comes as a huge shock, and I'm glad the report has a tinge of humor about it.
Beyond the sarcasm, I tried it once after I got a surprisingly interesting text that I absolutely had to respond to immediately.  Unfortunately, I was driving — not at a light, but in typical Jersey traffic.  It is well-known that it's nearly a death sentence to take your eyes off the road for more than 0.5 seconds anywhere in the Garden State.  Suffice it to say, I never did it again. 
Truth be told, we all do something while driving that is a little dangerous — talking on the phone, speaking to a passenger, surfing through the ever-growing radio (I just got XM and it's pretty distracting), playing with a GPS, smoking, putting on make-up, shaving, the occasional spill of something hot on us.  Though many states have already done so, I don't want the federal  government to feel like it needs to legislate a ban on texting-while-driving.  
So please, before Barry and His Merry Congress get their mitts on the issue, cut it out.