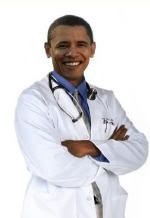 I declined to watch the Obama Healthcare infomercial on State-Sponsored Media outlet ABC last night, but caught some of the reaction on the blogosphere afterwards.  Two things immediately struck me as major blunder moments in the infomercial that are just begging to be advertising fodder for the anti-ObamaCare crowd.
First, according to accounts I have read, the crowd actually seemed quite skeptical of ObamaCare, and Obama's performance didn't seem to be too convincing (other than the "we can't afford not to act" rhetoric).  Second, two doctors asked very probing, good quesitons that caused Obama to flub.  The firs d question was in regards to the fact that in countries with Government-run care, wealthy elites (such as Obama himself) often can get care that is denied to others by virtue of government mandates.  Dr. Orrin Devinsky, a neurologist and researcher at the New York University Langone Medical Center, asked Obama if he would pledge not to seek treatment for himself, his wife, or his daughters, if that treatment wasn't available under the government plan.  Obama stammered and did not give a good answer, basically saying that he would not make any such promise as you always want the best care for your family.  He's correct, but the nature of the plan is such that many people who now have access to good, quality care, would likely be denied it by others.
A second doctor, Dr. John Corboy of the University of Colorado Health Science Center, asked about cost savings in Health Care.  Obama responded by stating that costs could be saved by not performing procedures or run diagnostic tests that were proven to be unnecessary or unhelpful.  The doctor challenged back that based on individual patients and situations, seemingly long-shot treatments may produce positive benefits, but Obama did not waver, talking instead about his grandmother not getting hip replacement surgery when she had cancer.
This is what ObamaCare is.  It is the elites making decisions for those of us and deciding what is appropriate care and what is not.  It is not up to bureaucrats to decide what is good and necessary health care, it should be up to doctors and patients.  Both of these comments from Obama are political fodder for the GOP and Conservative groups, and both of them should be turned into ad blitzes and run on as many media outlets as possible over the next several weeks.  The political pressure of such statements may be too much for the Democrats to bear, and may give us a chance of stopping ObamaCare dead in its tracks.