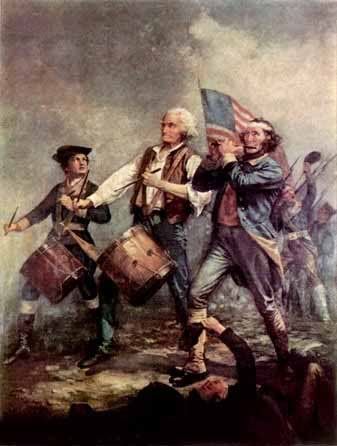 Usually the 4th is a chance to have some barbecue with friends and family, catch some fireworks, and cheer about how awesome we are.  And I hope that is the case with everyone this year – even if you're not American, please feel free to use tomorrow as at least another excuse to drink!
However, these aren't normal times.  April 15th saw thousands of Tax Day Tea Parties pop-up across the nation in protest of an out-of-control government.  They were non-partisan and highly spirited.  I showed up in Trenton, New Jersey, in the rain, to listen to rousing speeches and commune with like-minded people concerned about the future given our current trajectory. 
July 4, 1776, was a day of action.  It was a day when the signers of the Declaration of Independence penned their death-warrants for treason under the Crown of George III (who showed no signs of madness until over a decade later by the way) because they believed in the simple notion that a free people shouldn't live under a tyranny.
Well, we have that representative republic they sought for, but too many feel it's gotten sick.  Since Ronald Reagan, the spirit of our Founders which he reinvigorated has dissipated, and some feel the "soft tyranny" Alex de Tocqueville warned about in the 1830s has been creeping ever steadily.  37 states have introduced state sovereignty resolutions because they sense this too.
So tomorrow, if you can, if you care, please take a few hours out of your Saturday, and try to find a nearby Tea Party.  Your presence is participation enough.  Talk to like-minded people, embrace the true spirit of July 4th, and then go off to a regular party to indulge in ribs, hot dogs, burgers and beer.  Most Tea Parties are early enough to have a fulfilling day all around.
So have an active Fourth of July this year!  If this movement doesn't go away, maybe the Washington elites will listen.  But to do that, we need you!